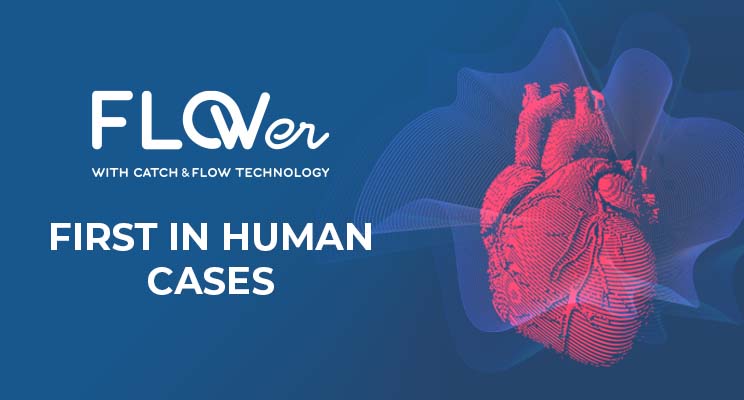 AorticLab, a leading innovator of cutting-edge technology solutions to treat aortic stenosis and improve patients' safety, based in Colleretto Giacosa Bioindustry Park – Turin Italy, – today announced the positive completion of the first three human procedures of its FLOWer embolic protection filter. The first in human procedures were performed in the Italian leading centers of Policlinico di Monza, IRCCS Policlinico San Donato and IRCCS Ospedale San Raffaele, both part of Gruppo San Donato, based in the Milan area.
"The innate spirit of innovation that characterizes the team of AorticLab, – said Franco Osta CEO – has made possible the development of the exclusive technology "CATCH&FLOW", that combines advanced materials with original design, giving optimal debris filtering without increasing blood pressure gradient. The FLOWer device is the first of a series of leading edge solutions designed to increase patients' safety and expand effective access to aortic valve stenosis treatment".
FLOWer, due to its unique CATCH&FLOW Technology, ensures a more effective capturing of calcified debris which might be released during TAVI's (Transcatheter Aortic Valve Implant) procedures, while maintaining the correct normal blood flow and protecting the inner surface of the supra-valvular aortic arch.
"I am really encouraged by our pilot experience with FLOWer – says Dr Filippo Scalise of Policlinico di Monza, P.I. of the Nautilus Study for the new device CE marking – and I believe that the benefits of this novel anti-embolic filter have the potential to better protect patients from the risk of periprocedural stroke through a device that provides complete systemic protection".
"I am favorably impressed – affirms Dr Federico De Marco of IRCCS Policlinico San Donato – with the overall ease of use of the FLOWer filter; the device was safely deployed and rapidly positioned as well as retrieved, adding negligible time to the procedure. No additional femoral access is needed thanks to the 5Fr pigtail integrated in the device delivery system"

In 2020, 190.000 patients worldwide underwent TAVI procedure and in 2027 it is assumed that there will be 390.000 cases. The TAVI procedure carries an inherent risk of stroke that may be more than 2-4%. FLOWer fits perfectly with the aortic wall and makes all aortic procedures more safe in term of adverse events minimizing the risk of cerebral damage by covering all three main branches of the aortic arch and the systemic circulation.
"Even if significant improvements have been achieved – states Dr Matteo Montorfano of IRCCS Ospedale San Raffaele –  in mortality and morbidity rates during TAVI procedures, the risk of stroke and other neurological  injuries still represents a non-negligeable risk  for  any TAVI patient and a potential procedural complication for treating physicians. Our patients deserve the highest standard of care and I am very glad they can benefit from the latest and most advanced technical solutions conceived and developed to improve patient's safety and protection."